Volunteers are the backbone of the Special Olympics Colorado movement. We would not exist today without the time, talents and dedication of so many wonderful and enthusiastic volunteers.
Special Olympics Colorado offers more than 400 events throughout the year in four different regions. There are always plenty of ways to get involved and make a difference. Whether you are looking to help out at a single event or you are seeking a more long-term commitment, such as a coach or unified partner, we would be thrilled to have you join the Special Olympics Colorado family.
Thank you for your interest in building a more active, healthy and inclusive world through Special Olympics Colorado.
Upcoming In-Person Volunteer Opportunities
February Volunteer Opportunities
How to Get Involved as a Volunteer
Day of Event Volunteer
Level of commitment: One-time commitment, 4-6 hours
This is by far our most popular way of volunteering. It gives those with limited time or who are new to Special Olympics a way to volunteer without making more than a one day commitment. There are day of event opportunities inside of a sports environment (at a competition) or beyond a sports environment (at a fundraising or outreach event).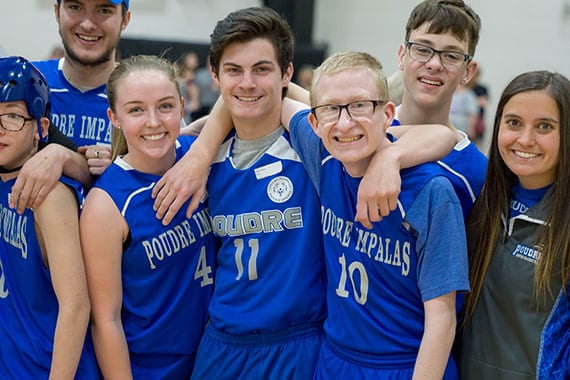 Become a Unified Partner
Level of commitment: Regular commitment 8-10 weeks
Unified partners (individuals without intellectual disabilities) train and compete as a teammate alongside Special Olympics athletes on a Unified Sports Team (either on a school based or community based team). There is no better way to combine a love of sports with the rewards of volunteer service than by becoming a Unified partner!
Athlete Leadership Mentor
Time Commitment: Athlete Leadership University (ALU) takes place twice a year (spring and fall) with the opportunity to build a lifelong meaningful connection with a Special Olympics Colorado athlete.
ALU is a college style leadership opportunity that offers athletes a variety of topics to build confidence, independence and life skills on and off the field. The goal is one-to-one mentorship.
Interested in becoming a mentor? Please contact Elizabeth Aslin our Athlete Leadership Manager at easlin@specialolympicsco.org.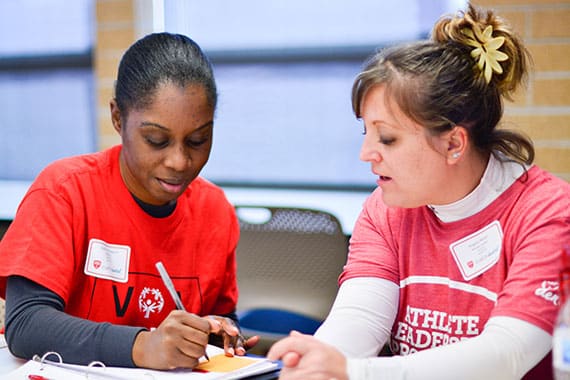 Other Opportunities
Level of commitment: Time commitment varies by position
Volunteer regularly beyond a sports environment. Help out as an administrative volunteer, help with data entry, join our Games Organizing Committee, or be a mentor to an athlete! Contact volunteer@specialolympicsco.org.
What is the difference between a "Class A" and "Class B" volunteer?
Class A
A "Class A" volunteer is an individual in a position of trust who has regular and close contact with Special Olympics Colorado athletes. This may also be a person who handles money or that needs credentials to access company equipment, information and services. Examples of "Class A" volunteers are Coaches, Unified Partners, Chaperones, Alps U Mentors, Office/Administrative Volunteers, Games Organizing Committee Members, etc.) A Protective Behaviors and Concussion Training are part of the registration process for all Class A volunteers. For those age 18 and older, a criminal background check is also required. These measures are taken out of extreme caution to protect and ensure the utmost safety of our athletes.
Class B
A "Class B" volunteer is an event-day volunteer who does not have athlete supervisory responsibilities. This opportunity includes helping with a single day fundraising event or sporting competition. Event-Day volunteer shifts are typically a 4-6 hour, one-time commitment on a Saturday or Sunday. Class B volunteers are able to pre-register online for the event of their choice via the Special Olympics Colorado website. Upon arriving to the event, volunteers check in at the volunteer registration table and are required to sign a Class B waiver for participation. Minors are required to have a parent/guardian signature.
What is the age requirement to volunteer at Special Olympics Colorado events?
16 years and older are eligible to volunteer by themselves
8-15 year olds must be accompanied by parent, guardian, or chaperone
7 years and younger are not given volunteer assignments, but are welcomed and encouraged to attend as "fans in the stands" and cheer on our athletes. They MUST be accompanied by a parent, guardian, or chaperone. Those age 7 and younger should not officially register for a volunteer role online.
8-15 year olds who are volunteering in a group require a 3 to 1 ratio-meaning one adult (18 years old or older) for every three minors. These groups usually include scout troops, school classes, church groups, etc.
Where can I find a list of upcoming Special Olympics competitions and events?
The upcoming volunteer opportunities can be found on the Special Olympics Colorado calendar webpage, under the calendar category Volunteer Opportunities. The events listed there are only those that are currently open for registration. For an overview of all events being offered throughout the entire year, click here to view our online Special Olympics Colorado calendar of events.
How do I sign up to volunteer at events?
Online volunteer registration typically opens 6-8 weeks ahead of a scheduled event. The upcoming volunteer opportunities can be found on the Special Olympics Colorado calendar webpage, under the calendar category Volunteer Opportunities.
Once a volunteer clicks on a particular event, clicking on the link to sign up to volunteer will take them to the online registration page for that event where they will then be able to register for their preferred volunteer role and shift time. All pertinent event information (time, location, responsibilities, etc.) is included on the registration page.
Those who sign up to volunteer will also receive a detailed email from Special Olympics Colorado a few days ahead of their scheduled event. This email will include any additional details such as parking instructions, an event timeline and other reminders.
What types of things will I be doing as an Event-Day (Class B) Volunteer?
Event-Day volunteer responsibilities vary based on the event and/or sporting competition that the volunteer has selected to attend. Roles may include: scorekeeping, keeping time, shagging balls, staging athletes, being a course marshall, being a fan in the stands and assisting with other event roles such as event registration, set-up and tear-down. Volunteers are provided training in their roles on the day of the event by Special Olympics Colorado staff. Prior experience is not required.
What sports does Special Olympics offer?
Special Olympics Colorado offers training and competition in 21 different sports throughout the year. Click here to view a breakdown of all sports offered by season.