Unified Champion Schools (UCS) Overview Video
Empower Your School. Change the World.
More than 600 schools around Colorado have become Unified Champion Schools (UCS). You can't afford to wait.
0
+
YOUTH IMPACTED STATEWIDE
0
%
OF ATHLETES EXPERIENCED IMPROVED SELF-CONFIDENCE
0
%
OF UCS LIASONS REPORTED REDUCED BULLYING
Special Olympics Unified Champion Schools (UCS) builds on Special Olympics Colorado's values, principles, practices and experiences to shape a generation that welcomes everyone.
The Unified Champion Schools approach incorporates Special Olympics sports and related activities to enhance the youth experience and empower students to be change agents in their communities.
UNIFIED CHAMPION SCHOOLS ALSO PROVIDE STUDENTS WITH THE OPPORTUNITY TO DEVELOP SOCIAL SKILLS
of students learn that standing up for something they believe is the right thing to do.
of students learn how to be patient with other students.
of students learn how one's emotions and attitudes can affect others.
of students who got to know a student with ID considered them a friend.

COMPONENTS OF A UNIFIED CHAMPION SCHOOL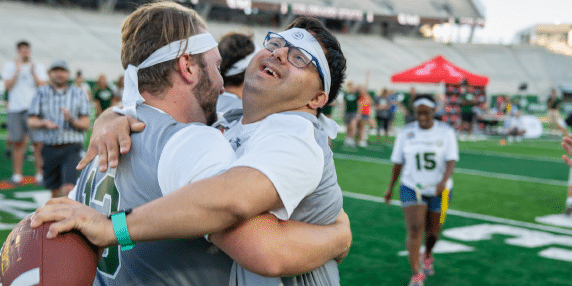 Unified Sports
Special Olympics is dedicated to promoting social inclusion through shared sports training and competition experiences. Unified Sports joins people with and without intellectual disabilities on the same team to build unity.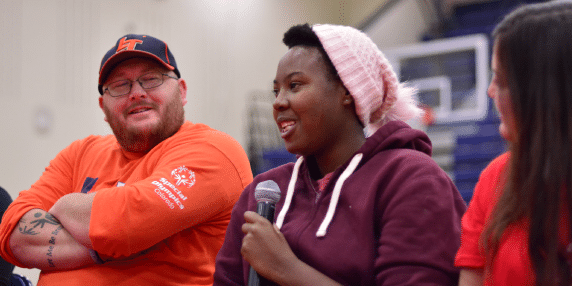 Inclusive Leadership & Advocacy
Youth leadership provides young people with the knowledge, attitudes and skills necessary to create and sustain school communities that promote acceptance, respect and human dignity.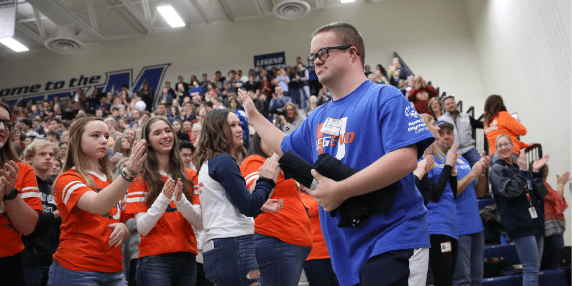 Whole School Engagement
Awareness and education activities that promote inclusion and reach the majority of the school population. I.E. Inclusion Campaign, pep rallies, "fans in the stands", etc.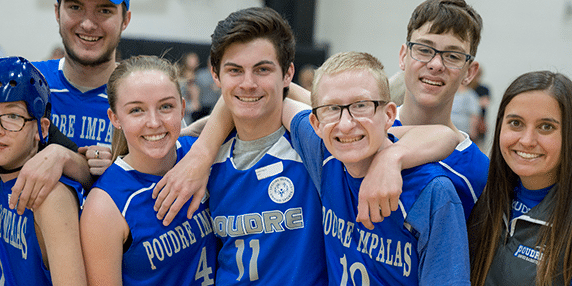 Health & Wellness Programming (Healthy LEAP)
Healthy LEAP (Lifestyle, Education and Application Program) is a series of health, nutrition, fitness, safety and injury prevention lessons created specifically for youth with and without intellectual disabilities. Healthy LEAP is designed to meet Colorado Department of Education's Comprehensive Health Standards.

TRANSITIONING OUT OF THE SCHOOL SYSTEM?
Special Olympics College
Special Olympics College (SO College) connects college students and individuals with intellectual disabilities through shared experiences. Together, college students and Special Olympics Colorado athletes work together to build accepting campus communities and build friendships that help lead the social inclusion movement of Special Olympics.
Special Olympics College programs are made up of the three components: Special Olympics Unified Sports®, Inclusive Leadership, and Whole Campus Engagement.
If you are interested in getting your college involved or want to get involved in an existing SO College program, contact Rick Brady.
*Please Note – Athletes do not need to be enrolled at the college or university they participate with.
<!=========Events Static list Template 2.9.6=========>
Unified Champion Schools, at all grade levels, have free and direct access to resources and opportunities from Special Olympics Colorado
Current Unified Champion Schools
Click on the toggle icon [
] to show school levels and filters. 
TAKE ACTION AND GET STARTED