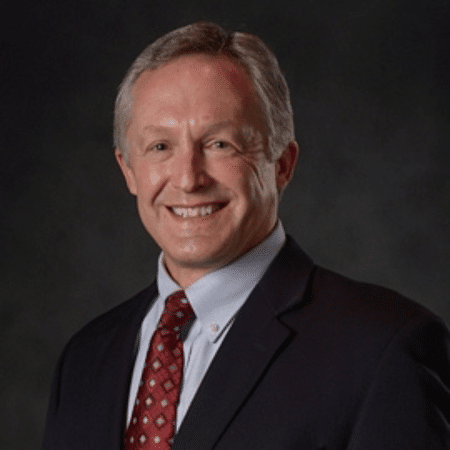 Jim Martin
Kroenke Sports & Entertainment
Former President and CEO of Kroenke Sports & Entertainment (Retired)
Jim Martin became President and CEO of Kroenke Sports & Entertainment in November 2010. He oversaw and directed KSE business and venue operations until his retirement from that position at the end of 2019. He also oversaw strategic growth and development and managed KSE's commercial and financial operations.
KSE owns and operates the Denver Nuggets, Colorado Avalanche, Colorado Rapids, and Colorado Mammoth professional sports teams, the Ball Arena (formerly Pepsi Center), Dick's Sporting Goods Park, and Paramount Theatre sports and entertainment venues, Altitude Sports & Entertainment regional television network, the Outdoor Sportsman Group, KSE Radio stations, as well as various additional affiliated and related businesses.
Martin first joined Kroenke Sports in 2004 as President of Altitude Sports & Entertainment, directing the launch of that network and overseeing its initial six years of operations. Prior to Altitude, Martin worked as an independent business advisor, serving clients in the cable television, interactive television and professional sports industries. This followed successful stints at major media companies. In the mid- 1990s, he was the first Chief Operating Officer of Fox Sports Net, overseeing all aspects of that network's launch and operation. He was subsequently promoted to Executive Vice President, Head of Business Operations, for Fox Cable Networks, which built, owned and operated a number of regional and national sports and entertainment television networks.
Prior to joining Fox, Martin was President of Regional Network Operations for Liberty Sports, managing Liberty Media Corporation's owned-and-operated regional networks and other sports network investments, as well as playing a key role in finalizing the merger of Liberty Sports with Fox Sports. Martin was Vice President and Chief Operating Officer of Liberty Media Corporation from 1991 through 1994, where he managed cable programming and sports operations and was heavily involved in cable programming and cable system development and acquisition.
Prior to his tenure with Liberty Media, Martin enjoyed a successful business law career, both in-house with Telecommunications, Inc. and Talley Industries, Inc., as well as with the Phoenix based law firm of Snell & Wilmer, where his practice focused on M&A, joint ventures and partnerships, and corporate law.
A 1977 graduate of the University of Wyoming with a Bachelor of Science degree in Accounting, Martin graduated from the University of Notre Dame Law School in 1980.
Martin currently serves on the Boards of Directors of the University of Wyoming Foundation, Colorado Secure Savings Program, Gold Crown Foundation, Denver Police Foundation, and Food Bank for Larimer County. He has previously served on the Visit Denver Board as well as the Denver Scientific and Cultural Facilities District (SCFD) Board.
Martin and his wife have four grown children and are long-time Colorado residents.