Athlete Leader Jeff Clark Works to Increase Opportunities for Aging Athletes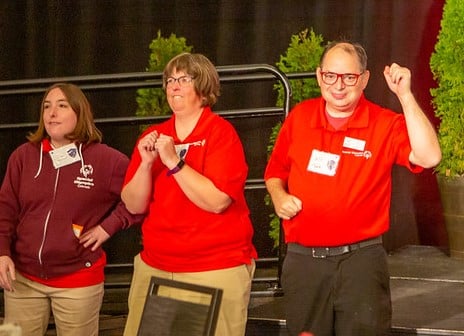 How do you keep growing when you've been a Special Olympics Colorado (SOCO) athlete for more than 3 decades? Jeff Clark has found a way to challenge himself while giving back to the community.
Special Olympics is Clark's second family, and his love for sports will never fade. He started with track and field and kept trying new sports. Leadership became his next step in SOCO, where he now sits on the State and Northeast Athlete Leadership Council. Clark is known for being reliable, respectful towards others, and is so knowledgeable when it comes to all things SOCO. "The younger athletes really look up to him and respect him," said Stephanie Lauchmen, SOCO's Athlete Leadership and Family Services Manager.
Clark enrolled in Athlete Leadership University (ALU), a collegiate-style program for athletes with intellectual and developmental disabilities. Through ALU,  athletes participate in classes, hands-on training, and certification. With the help of their mentor, athletes determine their leadership style and niche. Clark began with the Introduction to Athlete Leadership course and then selected  Governance as his major. "I wanted to be on a board, like the board of directors, just like Mackenzie [Beauvais-Nikl] and Tim Sharpe," explained Clark.
Then it all came together. Clark realized he could combine his ALU experience and training with his desire to create more opportunities for aging athletes. Clark gave insight into what it is like to be an aging athlete, "As you age, we don't have as much flexibility anymore, or we're not as fast or that kind of thing, and it's really hard for us to compete against somebody in their 20s. 50- and 60-year-olds can't keep up with the equal playing field."
When Clark remembered that SOCO had been considering adding Pickleball as a sport, he realized this could be his capstone project. Other states have started Pickleball already, and Clark wanted to see if he could bring the older-age inclusive sport to Colorado. While Pickleball is not an official SOCO sport, it is being explored through different regional "Learn to play" opportunities. "This is just the very beginning, and then we'll continue from there and incorporate whatever we need to," Clark says.
Clark hopes to expand the aging athlete program by adding more sports in the future. "It really makes me feel good playing sports and my goal for the aging athletes is to have us compete against our own age group," said Clark. His thought is to add a basketball team where athletes can run less or don't have to be as flexible. For example, Pickleball is a sport where you can have a limited amount of flexibility or speed to compete.
Clark presented his capstone project this past January at the Coach and Family Summit. "Watching Jeff's project come to life at the most recent Family Summit was amazing! He is excited to see his dream become a reality over the next couple of years as SOCO works to create opportunities for our aging athletes to compete comfortably," Lauchmen said. When speaking about his project, the audience could feel Clark's passion for bringing Pickleball to SOCO as the best opportunity for an aging athletes' program to start.
Clark suggests that athletes who want to learn more off the field check out Introduction to Athlete Leadership University throughout Colorado. Then athletes can join the State Athlete Leadership University in Denver. At ALU, athletes will choose their tracks and focus on their passions. For example, Clark chose the Governance track because he likes to lead and wants to be on the board of directors. Clark feels it is essential to follow your passion. It can lead to helping and bringing others together.
Learn more about Athlete Leadership and how to get involved at SpecialOlympicsCO.org/AthleteLeadership.