Special Olympics Athletes and Supporters Pull Together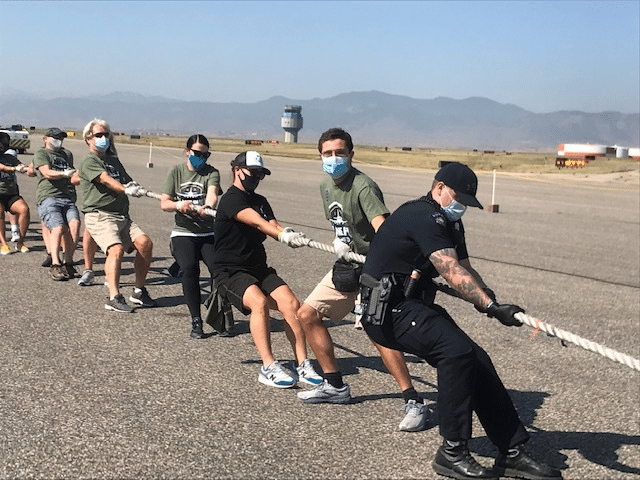 By Brenda Stuart, Special Olympics Colorado Parent
Like most parents, I'm confident my son, Jack, could move mountains when it comes to getting something he really wants or accomplishing most tasks. So it came as no surprise that he wanted to try his hand (and muscles) at pulling a 65,000 pound Gulfstream IV jet aircraft at the 2021 Broomfield Plane Pull.
Pull for a Purpose

It did surprise me that Jack understood why he and several hundred others showed up at the Rocky Mountain Metropolitan Airport in Broomfield to take part. Plane and simple: the event is a fundraiser that helps 15,000 athletes with intellectual disabilities compete in the sports they love. Each team of 15 was asked to raise a minimum of $1000. Jack told me pulling a plane 15 feet across a tarmac was easy compared to the task of raising money. But once he registered and got set up, his fundraising efforts took off.
Camaraderie

Events like the Plane Pull and Polar Plunge offer athletes the same benefits as sports competitions. Sure, the medals and tee-shirts are great. But it's the fellowship and teamwork that brings a smile to Jack's face. Together, they can all move mountains – or at least a simple plane.
Police Pals

We always taught our children to look for a police officer if they got lost or needed help. That lesson became easier once Jack noticed the officers taking part in the Special Olympic Torch Runs and Tip-A-Cop events at local restaurants. These events and the annual Plane Pull make it easier for people with intellectual disabilities to see officers as their friends. His biggest dilemma? Deciding which law enforcement team he wanted to join. He knew he made the right choice when an Aurora police officer came up and put a Jr. Police officer sticker on his shirt! It didn't seem to matter that many of the people on his team were plane clothes officers. He knew they were all pulling for him.
Future Flights
Jack plans to leave his fundraising page up for a while as he gets ready for the next Plane Pull in Colorado Springs on Saturday, September 18th. This one takes place at the National Museum of World War II Aviation. He tells me it will be a little easier because this time PBY Catalina plane they have to pull across the tarmac only weighs 25,000 pounds. He's confident he and his team will be able to pull it off.
Brenda Stuart is a Denver journalist and frequent volunteer with Special Olympics Colorado. Her son's favorite activities are swimming, basketball, and special events like Tip-a-Cop, the Plane Pull, and the Polar Plunge.