How to Have a Fun & Safe Halloween
Like many other events and holidays in 2020, Halloween will look very different this year. Even though you may not be able to go trick or treating or attend a costume party, there are still ways you can have a fun and spooky Halloween!
Here are 10 ways to celebrate Halloween safely:
1. Carve pumpkins
Nothing says it's Halloween like a good Jack-O-Lantern. Choose your favorite design and get carving. And don't forget to roast those pumpkin seeds to snack on! Yummmmm.
2. Decorate your home
Become the spookiest house on the block! Whether inside or outside, decorating your home will definitely get you into the Halloween spirit.
3. Bake Halloween treats
Worms and dirt, graveyard cupcakes, and monster cookies. The opportunities are endless!
4. Create a Halloween scavenger hunt
Scavenger hunts are always a good time! Put clues around your home for your housemates or family member to find.
5. Join us for a Halloween Mid-Season Fall Virtual Dance Party
Just because you can't go to a party doesn't mean you can't dress up and dance! Click here to learn more! 
6. Have a Halloween movie night
The best fall nights are the nights where you can get cozy under your favorite blanket and turn on a spooky movie. It wouldn't be Halloween without watching Hocus Pocus at least once!
7. Visit a pumpkin patch
Enjoy the fall weather and visit a pumpkin patch to pick out the perfect pumpkin for carving. Be sure to use hand sanitizer before and after touching a pumpkin, wear a mask, and maintain social distance from others.
8. Listen to your favorite Halloween songs
Monster Mash anyone?
9. Camp out under the blue moon
Did you know there will be a blue moon on October 31st? A blue moon isn't actually blue, but it is referred to as such because it is the second full moon in a month. There hasn't been a blue moon on Halloween since 1944 and there won't be another one until 2039. Enjoy it while it lasts and camp out under the blue moon!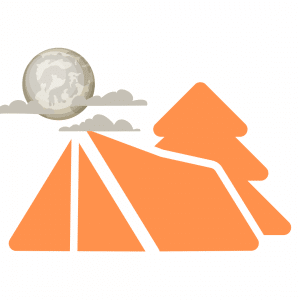 10. Attend our Drive Thru Harvest Festival & Trunk or Treat event on Friday, October 30!
Click here to learn more.