September 2020 Winners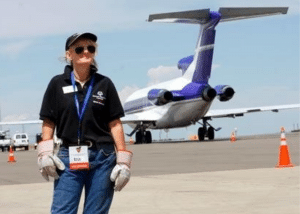 Rose Winkler
Athlete of the Month
Rose began competing for Special Olympics 47 years ago in Spearfish, South Dakota when her friend Teresa Hickenbothman introduced her to the organization. Rose has since competed in Unified basketball, softball, soccer, and track and field.
Her favorite memory with Special Olympics was in 1980 when she had the opportunity to watch a taping of Bob Hope's USO show at the Air Force Academy at Falcon Stadium and saw Andy Gibb on stage.
Currently, Rose coaches Unified sports at Poudre High School in Fort Collins. She also enjoys riding her bike and hanging out with her friends.
Rose is very active in the Special Olympics Colorado community and is always willing to lend a hand in the Northeast region. Congratulations, Rose, on being recognized as our September Athlete of the Month!
Lisa Sacino
Volunteer of the Month
Lisa Sacino is a 2nd – 5th grade teacher from Black Forrest Hills Elementary School and has been implementing the Red Shirt Rookies Program in Cherry Creek Schools for 8 years. She is also part of the Healthy LEAP pilot team.
Despite the challenges of coronavirus, Lisa has been able to adjust her team's participation during these trying times.  Lisa helped create and share the many Healthy LEAP activity sessions and sat in on the many meetings and design sessions. She has promoted the program to Cherry Creek Elementary teachers at the Professional Development Conference for many years. She also attended the Healthy Schools Summit and co-taught a session on Red Shirt Rookies and Leap Programs.
Lisa says that her time with the Red Shirt Rookies is the best part of her day and enjoyed the football games. "It was so fun for the kids," said Lisa. "Our medal ceremonies are so amazing as each coach tells the athletes what they loved about teaching them. It's so heartwarming!"
When she's not running Red Shirt Rookies or programming for Healthy LEAP, Lisa enjoys hiking, kayaking, biking, and playing with her five grandkids.
Thank you Lisa for all you do for Special Olympics Colorado and congratulations on being recognized as our September Volunteer of the Month!