August 2023 Change Makers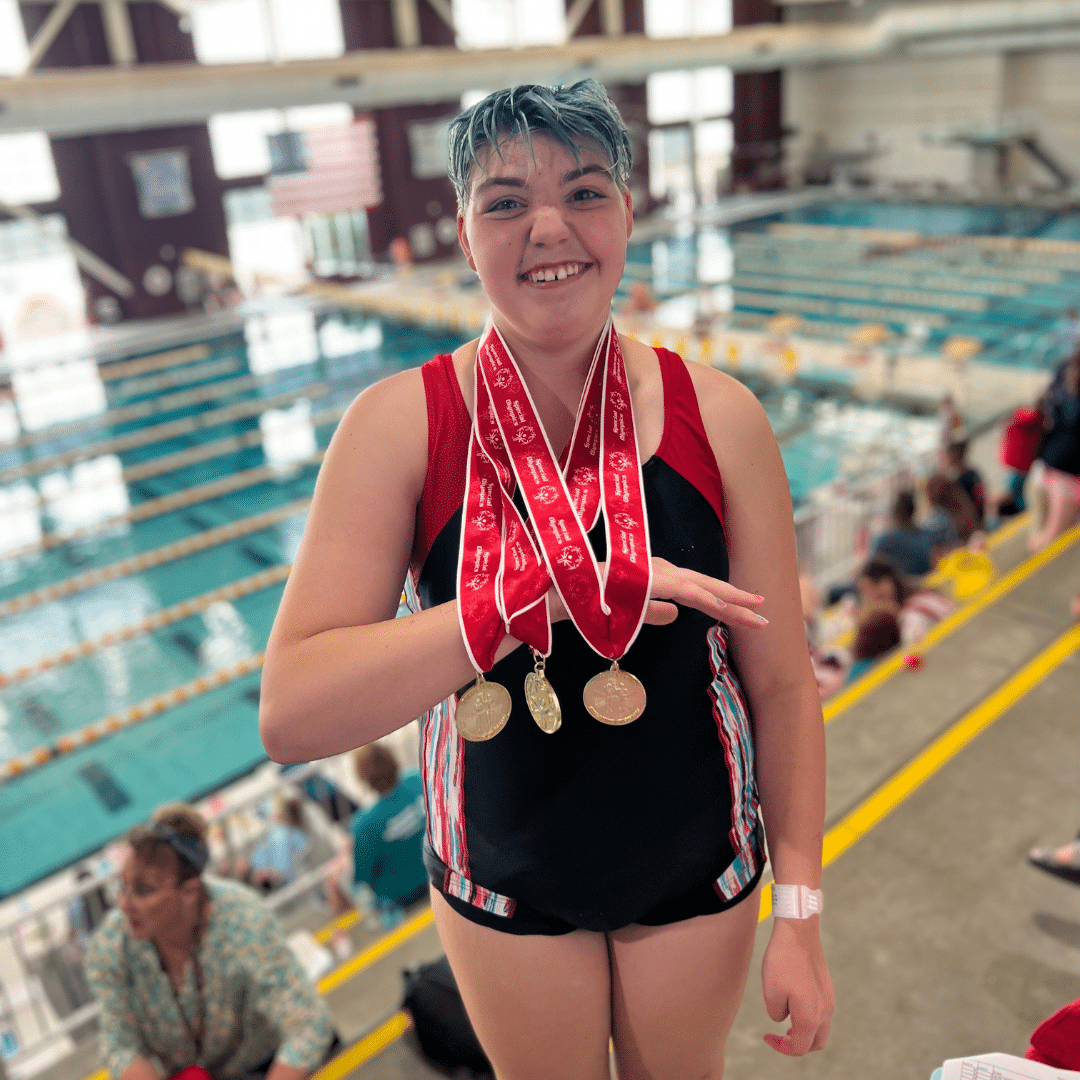 Amelia Thompson
Athlete of the Month
Amelia first started competing with Special Olympics Colorado in 2019 with the Loveland Aquatics team. "Amelia was taking private swimming lessons at the same pool where the Loveland Aquatics team was practicing and she was SO excited to see people 'like her' swimming on a team," said Ali Thompson, Amelia's mother. Amelia was just learning to swim at the time and when they spoke to the team's coach, Diane, who gave her a goal of swimming 25 meters to join the team. The following year, she met her goal and the rest is history!
In addition to swimming, Amelia also competes in Unified basketball. "She loves both sports, but swimming is her absolute favorite because of how wonderful her team and coaches are," said Ali. "She has also been able to go to State Games for swimming and it's one of the best parts of her year!"
Ali explained that Amelia is a "competition" athlete. "At practice, she loves being with her teammates and laughing and hanging out, but when it comes to a competition, especially State Games, she is uncharacteristically focused and performs better than even her coaches think she can," exclaimed Ali. "She also loves to cheer and scream for her teammates. Even though she is 'non-verbal,' her teammates can hear her enthusiastic screams across the swimming venues! "
Amelia loves Special Olympics Colorado because she enjoys being around people who accept her for who she is and her abilities. "She is a cheerleader at heart and she can be her whole loud, happy remarkable self without worrying about what people think of her," said Ali. "She also loves being celebrated for her abilities and truly that is what Special Olympics does!"
Congratulations on being recognized as the August Athlete of the Month, Amelia!
The Hernandez Family
Family of the Month
The Hernandez Family initially got involved with Special Olympics Colorado at a Young Athletes "Learn to Basketball" event in February 2022. Andria Hernandez, mother of Dorian, Santino and Ariana, explained that as things were opening back up after the pandemic, Dorian was showing interest in watching and playing sports. Andria's brother has been a Special Olympics athlete for many years and after seeing how much he loved competing for Special Olympics, she knew she wanted to get Dorian involved as well.
"The best memories are of the smile on Dorian's face that always happens at the events that he participates in," said Andria. "Dorian loves to play sports, which is not always possible or easily possible due to him being in a wheelchair, so when he has an event to attend, he is so happy and excited about it during the days leading up to it."
Andria mentioned that his excitement and happiness after events are the happiest memories for her. "In his smile, I see the feeling of inclusion, of accomplishment and of excitement," she said.
In November 2023, the Hernandez Family had the amazing opportunity to travel to Florida to attend a Tampa Bay Buccaneers game and meet Tom Brady, Dorian's favorite NFL player, as part of Dream on 3. Andria reminisced that it was the most amazing experience. "The entire Dream on 3 trip was amazing and was a trip that has changed Dorian's life," she explained. "He got to have an epic school send-off, a magical night at the Gaylord Rockies, a trip to Florida to meet Tom Brady, go to an in-person NFL game, go to the beach for the first time and travel with the most amazing Dream on 3 team." Andria credits Ashtyn Anderson, Special Olympics Colorado Yount Athletes Coordinator, for this incredible experience. "Ashtyn went out of her way to nominate Dorian for a sports dream and his dream to meet Tom Brady came true."
Young Athletes has made a huge impact on the Hernandez family. "The ability for Dorian's younger brother to participate at most events with Dorian allows them to have fun and make memories together," said Andria, who recalled how kind and encouraging the volunteers are to their family. "Young Athletes allows Dorian to participate in sports and events that are not easily accessible for Dorian." Andria feels that Young Athletes has opened Dorian's world up further and is now an extended part of their family. "We feel seen, cared for and taken care of," she said.
We are honored to recognize the Hernandez Family as the August Family of the Month! Congratulations!!