September 2023 Change Makers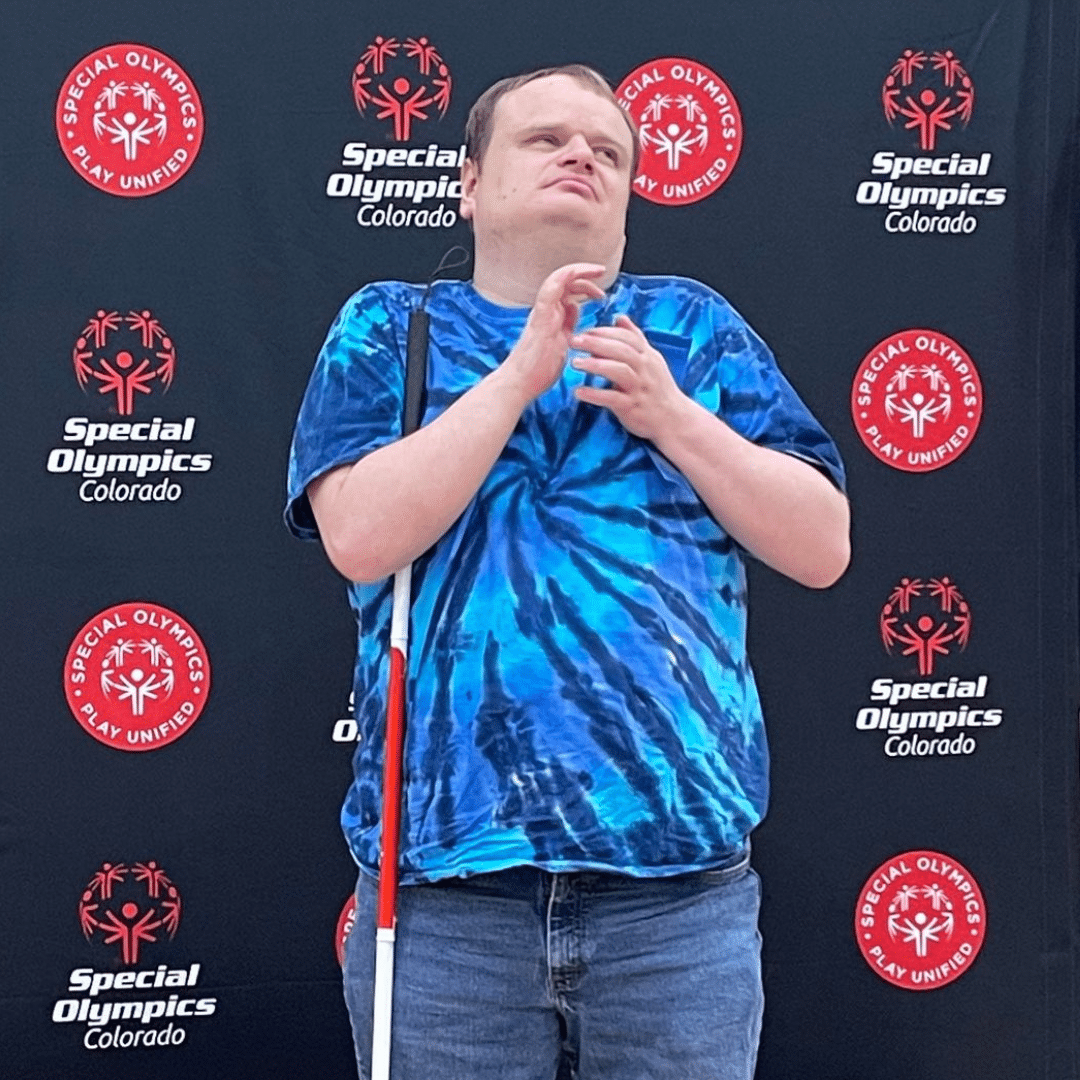 Matt Stehle
Athlete of the Month
Matthew Stehle loves music, bowling, and swimming. He has been competing in bowling and swimming competitions with Special Olympics Colorado since 2009 with the help of volunteers and staff members. Matt is visually impaired and graduated from The Colorado School for the Blind. He uses his cane and a ramp to achieve high scores in the Special Olympics bowling competitions, and while swimming, Matt's volunteers tell him which direction to go and he is off. Matt has a passion for competition and plans to continue competing for many years to come.
Congratulations on being recognized as the September Athlete of the Month, Matt!
Rusty Taylor
Volunteer of the Month
Rusty first got involved with Special Olympics in Idaho in 2009 where he helped escort the cast of the movie "The Ringer" around the Special Olympics World Winter Games in Boise, ID. "It was a great first experience, and I've been involved ever since," he said.
When asked what he enjoys about volunteering for Special Olympics Colorado, Rusty responded that there are so many great aspects that it's tough to pick just one. "I truly enjoy logistics and planning, but giving out medals to athletes is such a unique and special experience," said Rusty. "The long hours are made easy when we're surrounded by this incredible community."
Additionally, because Rusty has spent so much time volunteering with Special Olympics, he has so many favorite memories from Opening Ceremonies at State Games to even holding down tents in storms. "I'm a happy person, so I enjoy all of it," explained Rusty.
Volunteering for Special Olympics Colorado has become a huge part of Rusty's life. You can find him at competitions, fundraisers and even a Switchbacks game cheering on the Unified team. "It's an honor to be able to serve with such an amazing organization," said Rusty. "The athletes, staff, and volunteers make it truly enjoyable."
For those thinking about volunteering for an event, Rusty encourages you to start with one and sign up early so you can pick your job and the time that you want to volunteer. He said that most people who sign up for one event will see how great the Games are and will want to sign up for more.
Rusty, we are lucky to have you as part of our volunteer family and are proud to recognize you as the September Volunteer of the Month!