Click Here for a List of Terms to Know
Athlete: Children and adults with intellectual disabilities who compete in Special Olympics
Unified Partner: Individuals without intellectual disabilities who train and compete as a teammate alongside Special Olympics athletes on a Unified Sports Team.
Unified Sports: An inclusive program which combines individuals with intellectual disabilities (athletes) and individuals without intellectual disabilities (Unified partners) on sports teams for training and competition.
Unified Champion Schools (UCS): Schools that have three components: Unified sports, whole school engagement and inclusive youth leadership. These are school climates where students with disabilities feel welcome and are routinely included in, and feel a part of, all activities, opportunities and functions.
What does it mean to be Unified? At Special Olympics Colorado, it means bringing people with and without disabilities together through the power of sports.
Unified sports were inspired by the thought that training and playing together is an easy way to build friendship and understanding. Unified partners then have the ability to get to know someone with a disability on a more personal level by becoming their teammate.
Unfortunately, many young people with intellectual disabilities do not get a chance to play on their school sports teams. Because of this, many schools have become Special Olympics Unified Champion Schools, allowing those students a chance to put on a jersey and represent their schools.
Unified Champion Schools work to reduce bullying and exclusion, promote healthy activities and interactions, overturn stereotypes and negative attitudes, eliminate hurtful language in schools, and engage young people as leaders of a new social environment. There are three components schools must have in order to be recognized as a Unified Champion School: Unified sports, whole school engagement and inclusive youth leadership.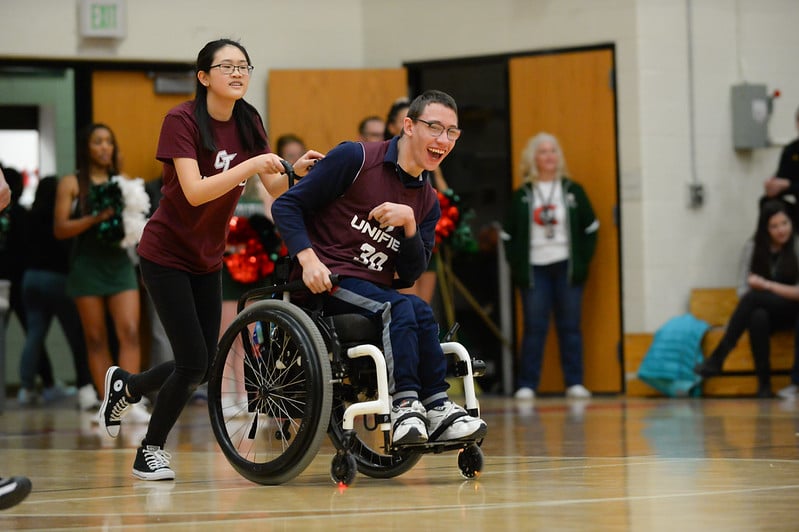 Unified sports allow students who might typically be excluded to represent their school and be cheered on by their peers, while whole school engagement is anything that is fun, inclusive, and involves the entire school. Inclusive youth leadership is typically seen through inclusive school clubs, such as Unified Pals at Fort Collins High School.
There are nearly 8,000 Unified Champion Schools across the nation ranging from preschools to universities. More than 400 of those Unified Champion Schools are in Colorado.
Carter Green, a Unified partner at Brighton High School, explained that his school is very invested in being a Unified Champion School and he has learned a lot through the Unified program.

"Because of this Unified program, I definitely have a greater understanding of individuals and students with differences," said Carter. "I believe that all schools should have a Unified program because I do think that it would greatly decrease the rate of bullying towards individuals with differences."
Unified Champions Schools do more than just benefit the athletes and Unified partners. They benefit the entire school. Take a look at the numbers:
95% of Unified Champion School liaisons felts that the UCS program has created a more socially inclusive environment.
90% of liaisons indicated that the UCS program reduces bullying, teasing and use of offensive language in the school.
95% of liaisons reported increased participation of students with intellectual disabilities in school activities, leading to more inclusive attitudes school-wide.
65% of high school students stated that the strong relationships developed with their peers with intellectual disabilities was one of the best parts of participating in the UCS program.
100% of teachers said the UCS program eased the transition from middle school to high school by fostering a sense of belonging, building relationships and providing continuity for students over time.
Isaiah Maez, a Special Olympics athlete at Brighton High School, also enjoys being part of the Unified program at his school. "Our Unified program does so much for us and it is so fun to be part of," said Isaiah. "I think all schools should have Unified sports."
Want your school to become a Unified Champion School? Click here to learn more!