How to Enjoy Camping with a Child with Intellectual Disabilities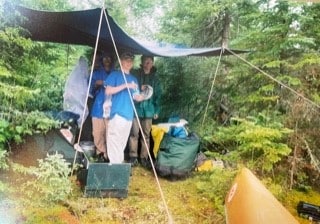 By Brenda Stuart, Special Olympics Colorado Parent
Colorado offers some of the best scenic camping spots around. There's no better place to make memories with your children. But nature offers different sensory experiences, and a child with intellectual disabilities may have trouble adjusting to all the stimulations at once.
So, how can you help your child with intellectual disabilities enjoy camping?
Start Small

Since my family loves to camp (not the camper kind, but the full tent and cooking over a fire experience), we wanted to share that experience with our son, Jack.
Since Jack has autism, we worried about him wandering out of the tent in the middle of the night as well as the other dangers of wild animals, the campfire, and reaching for poison ivy and other dangerous plants.
How did we ease Jack into the wonders of camping? We decided to start small and teach the ground rules by first camping in the backyard.
The backyard is safer since there's a fence with a gate we can lock. It's also convenient for those middle-of-the-night bathroom trips. The idea of sleeping in a sleeping bag somehow isn't as scary when it's close to your bed. We also included a few extras, like my son's favorite blanket and stuffed animal.
Teach Campfire Safety
All kids enjoy a campfire — perhaps too much — so we taught Jack about campfire safety closer to home before heading out into the wild.
We have the luxury of a fire pit in the backyard with a grate around it to keep out prying hands. We taught Jack how to roast hot dogs and marshmallows using an extra-long stick. We were standing by, of course, ready to grab him if necessary.
Another campfire safety lesson learned? We also taught all our children the importance of having a huge bucket of water nearby.
Get Your Child to Help Set Up Camp
The family that camps together stays together, so encouraging your child to help in setting up camp helps him or her to feel a part of the whole outdoors experience.
We started by teaching Jack how to set up the tent in the backyard. When we graduated to camping in a state park, we put Jack in charge of rolling out the sleeping bags.
When camping in the mountains, it's important to allow your child to help with the decision-making. We let our son pick the campsite he preferred, and he always chose a quiet location. Why? When he was old enough, he explained that he didn't like camping near waterfalls because of the noise.
Plan Fun Daytime Activities
Sitting and cooking around a campfire is great fun at night, but it's essential to plan enjoyable daytime activities that aren't overwhelming.
We chose fishing (in a stocked lake) and horseback riding. We graduated to hiking and canoeing as Jack and our other children grew older.
Encourage Camping with Friends
Learning how to camp opens a whole new world for children with intellectual disabilities. While my son sometimes has trouble conversing with people, Jack has no trouble taking part in outdoor excursions.
Camping offers all kids a universal language. Jack doesn't need to speak to set up camp with the Boy Scouts. He just needs to know the rules of the wilderness and how to be prepared.
Camping as a Safe Space
While parents of children with a disability often worry about the dangers of camping, they often forget about the rewards. A secluded space offers your child a place to make as much noise as he or she wants. Your child can also enjoy nature on his or her own terms as well as the health benefits of being outdoors.
And for parents and siblings? Showing your child with intellectual disabilities how to camp gives your family the freedom to travel across the country. An added benefit? Many national and state parks now have accessible campsites for people with intellectual and physical disabilities.
Before you go into the woods, go into your backyard. Start small to teach your son or daughter the joys of camping — and campfire safety.
Brenda Stuart is a Denver journalist and frequent volunteer with Special Olympics Colorado. Her son's favorite activities are swimming, basketball, and special events like Tip-a-Cop, the Plane Pull, and the Polar Plunge.