USA Football Medical Advisory Panel to Advance Smarter and Safer Play for America's Youth Football Family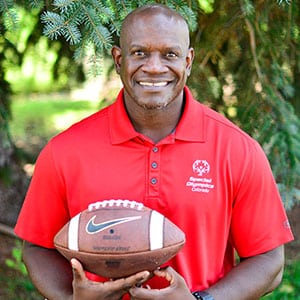 Leaders across pediatrics, kinesiology, neuroscience and adapted sport comprise Panel
INDIANAPOLIS – USA Football today announced its Medical Advisory Panel, comprised of experts to assist the sport's national governing body in delivering leading athlete health and safety standards to America's grassroots football family.
A member of the U.S. Olympic & Paralympic Committee (USOPC), USA Football designs and delivers premier educational, developmental and competitive programs to advance, unify and grow the sport. The organization puts forth a nationally accredited coach certification and other standards, guidelines and recommendations for youth leagues to adopt within their programs.
USA Football's Medical Advisory Panel will deliver direction on the applicability and understanding of relevant research from the medical and sports science space pertaining to athlete health and wellness.
This encompasses, yet is not limited to, youth football practice and rule recommendations; athlete mental health; sudden cardiac arrest; heat and hydration; and concussion recognition and response. In addition, the group will review international, multi-sport literature to advance healthy play and even stronger participation across youth football.
The volunteer, expert panel also will provide insight on new products and equipment and assess USA Football recommendations and guidelines to benefit young athletes regardless of race, gender or ability.
USA Football Medical Advisory Panel:
• Dr. Javier Cárdenas, Neurologist, Barrow Concussion and Brain Injury Center (Phoenix)
• Dr. Cordelia Carter, Pediatric Orthopedic Sports Surgeon, NYU Langone Health
• Dr. Gerard Gioia (Chair), Chief, Division of Pediatric Neuropsychology, Children's National Hospital (Washington, D.C.)
• Dr. Brian Hainline, Chief Medical Officer, National Collegiate Athletic Association (Indianapolis)
• Dr. Karen Hopkins, Clinical Assoc. Prof. of Pediatrics, Neurodevelopmental Behavioral Pediatrics, NYU Langone Health
• Dr. Michael Koester, Physician, Pediatric and Adolescent Sports Medicine, Slocum Center for Orthopedics and Sports
Medicine (Eugene, Ore.)
• Dr. Thayne Munce, Research Scientist, Sanford Health (Sioux Falls, S.D.)
• Dr. Rebecca Stearns, Chief Operating Officer, Korey Stringer Institute, Department of Kinesiology, University of
Connecticut (Storrs, Conn.)
• Chaka Sutton, Senior Vice President, Special Olympics Colorado (Centennial, Colo.)
"Collectively, our panel shares a common goal to optimize the many benefits of football participation while advancing kids' health, both physically and mentally," said DR. GERARD GIOIA, USA Football Medical Advisory Panel chair and Chief of Pediatric Neuropsychology at Children's National Hospital in Washington, D.C. Dr. Gioia, a member of USA Football's Football Development Model Council, also helped develop the national governing body's endorsed Athlete Health & Wellness Recommendations for youth football play. "It's a privilege for us to contribute to USA Football's child
development-centric mission through a game that our kids love to play and are healthier when they do."
"As COVID-19 protocols evolve and millions of children return to the fun and fitness of youth football, their health and well-being remains our highest priority," said USA Football Senior Director of Football Education MICHAEL KRUEGER. "The thought-leadership and tangible direction delivered by this extraordinary panel will further strengthen youth football programs coast-to-coast. The biggest winner in the formation of this panel is every child who loves to play our sport."
Since 2012, more than 700,000 USA Football Youth Coach Certifications have been completed in all 50 states, Washington, D.C. and 10 foreign countries across four continents. In addition, USA Football has conducted more than 1,300 in-person coaching clinics for nearly 50,000 volunteer coaches from all 50 states and 11 foreign countries since 2010. USA Football was the first U.S. Olympic & Paralympic Committee member organization to earn the National Athletic Trainers' Association Youth Sports Safety Ambassador Award in 2016 for its commitment to safer and smarter play.
# # #
About USA Football: USA Football designs and delivers premier educational, developmental and competitive programs to advance, unify and grow the sport. As the sport's national governing body, a member of the U.S. Olympic & Paralympic Committee and the United States' sole delegate to the International Federation of American Football, USA Football assembles and directs U.S. National Teams for international competition. The independent non-profit also partners with leaders in medicine, child advocacy and athletics to support positive football experiences for youth, high
school and other amateur players. Visit usafootball.com to learn more.