May 2023 Change Makers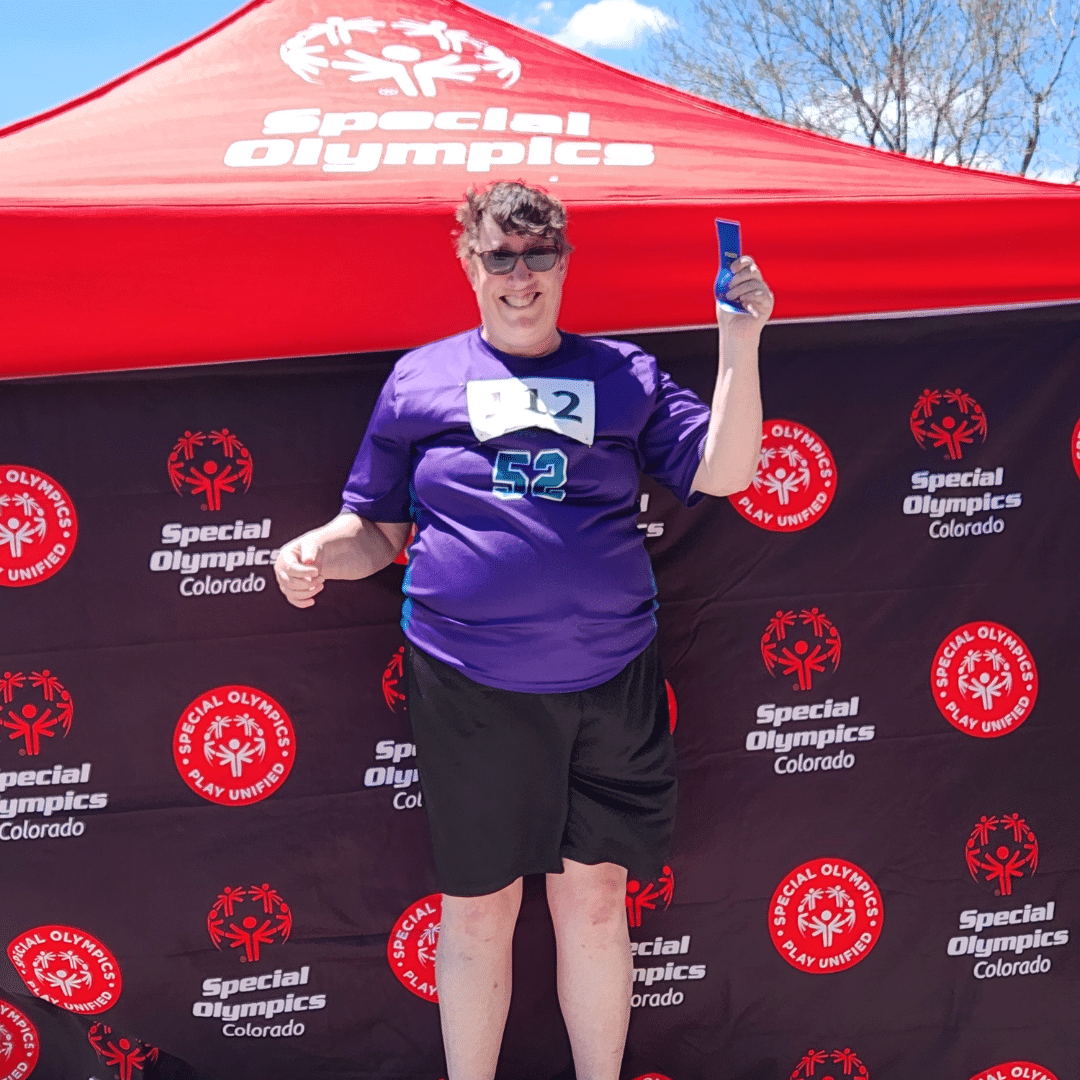 Michelle Twitchell
Athlete of the Month
Michelle has been competing for more than 40 years. During her first year, she competed in athletics and bowling and instantly fell in love with Special Olympics Colorado and enjoys competing against other teams.
Currently, Michelle is very active in Special Olympics Colorado sports. She continues to compete in athletics and bowling, and now also competes in basketball, bocce, bowling, flag football, snowshoeing, soccer, softball and volleyball. She also serves as a Fitness Captain and leads warmups and stretches at every one of her practices.
Michelle's favorite part about competing in Special Olympics Colorado is playing against other teams, the friendships she's made and the overall competition. One of her favorite memories was going to the National Games in 1987 in Indiana where she competed in athletics. Last year, she also had the opportunity to light the torch at State Summer Games Opening Ceremonies, which was another highlight for her.
Overall, Michelle feels very included when competing in Special Olympics Colorado. She enjoys having the opportunity to compete with no judgment from others. She loves her team, the Rocky Mountain Ninjas because it feels like a family where everyone gets along and all voices are heard and acknowledged. She also likes that the team's coordinators and coaches help everyone to become better athletes.
Congratulations, Michelle, on being recognized as the May Athlete of the Month!
The Dertz Family
Family of the Month
The Dertz family, consisting of Becky (mom), Dan (dad), Anna, Cayden and Max (children) first go involved with Special Olympics Colorado about 15 years ago. Dan was brought into an alpine ski and snowboard volunteer training by his friend and Coworker, Randy Burkhardt. "Dan luckily introduced the rest of the family throughout the years to the incredible experience and giveback that comes with committing our family to volunteering," said Becky.
From then on, Anna got involved with running the starting gates at winter competitions and enjoys cheering on the athletes as they inspect, race and compete. Cayden has also been a Unified partner with the Maximum Velocity ski team for 5 years. "He loved racing and spending time with his teammates every week during the seasons," Becky explained.
Currently, Cayden has enjoyed learning to assist in setting up and tearing down the racecourses. Becky helps Anna with the start gates and has transitioned to the finish line to assist with timing. Dan, with the help of Cayden now, is the muscle of our family and supports to set, tear down and supply equipment needed to run the races around the mountain.
"Throughout the years we have made some incredible friends and connections with the athletes, coaches, parents and volunteers," Becky said. "During covid, the trainings and races were quite limited and when we were finally able to come together again, we enjoyed it even more!"
Their favorite event to attend is State Winter Games at Copper Mountain because it "is an absolute treat with a weekend full of festivities, races and fun," said Becky. Recently, Cayden was asked to help light the cauldron and officially start the Winter State Games. "He loved it!"
"Volunteering with Special Olympics Colorado has changed our family's lives forever. We couldn't be more grateful for the opportunity to be volunteers and are honored to be recognized as the Family of the Month," said Becky.
Congratulations to the Dertz family on being recognized as the May Family of the Month! We are so thankful for all you do for Special Olympics Colorado.