Teri Leiker Act Signed by Governor Jared Polis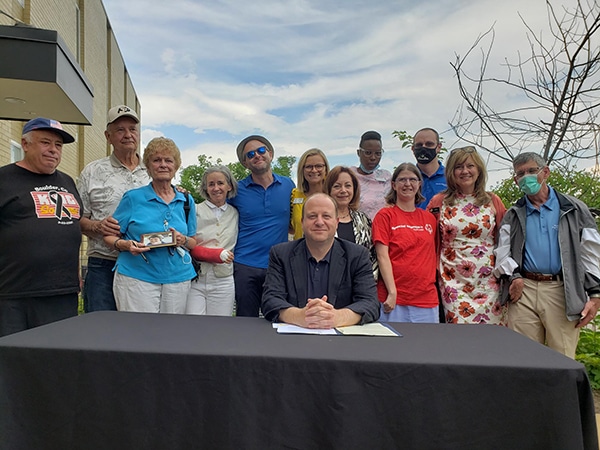 FOR IMMEDIATE RELEASE – Media Contact: Sr. Director of Marketing, Ben Theune | 719-201-9473
Teri Leiker Act Signed by Governor Jared Polis
Colorado's latest vanity plate to benefit Special Olympics Colorado easily passes through state legislature
Denver, CO – June 29, 2021 – Special Olympics Colorado, Colorado's premiere sports organization for individuals with intellectual disabilities, is thrilled to announce the signing of House Bill 1323, otherwise known as the Teri Leiker Act.
The Teri Leiker Act was signed into law by Governor Jared Polis on Thursday, June 24, 2021 and marks an appropriation to create a Special Olympics Colorado license plate. More than 3,400 supporters signed a petition to find a bill sponsor who added the Teri Leiker Act to the legislative agenda.  Now signed, the act will raise funds and awareness for Colorado's largest sports organization for people with intellectual disabilities.
"Special Olympics Colorado cannot express enough gratitude for the passage of House Bill 1323," stated Special Olympics Colorado President and CEO, Megan Scremin. "To Governor Polis, each and every bill sponsor and the thousands that signed the petition, Thank you! This bill honors the life and spirit of Teri Leiker who epitomized the essence of the Special Olympics movement. Teri's legacy will continue to make an incredible impact on the lives of thousands of Coloradans for many years to come."
House Bill 1323 received widespread bi-partisan support, most notably from bill sponsors; Senate Majority Leader Steve Fenberg (D-Boulder), Senator Bob Rankin (R-Carbondale), Rep. Lisa Cutter (D-Evergreen) and Rep. Judy Amabile (D-Boulder).
If you are interested in purchasing a Special Olympics Colorado license plate or would like to be the first to know about its release, visit SpecialOlympicsCO.org/LicensePlate.
About Special Olympics Colorado:
Special Olympics Colorado provides year-round sports training and competition for nearly 18,000 athletes with intellectual disabilities and unified partners. Through the support of an amazing community of coaches, volunteers, donors, sponsors and partners, Special Olympics Colorado is able to offer hundreds of annual engagements, free of charge, to individuals age 2 and up. For more information about Special Olympics Colorado please visit SpecialOlympicsCO.org, or like us on Facebook, follow us on Twitter & Instagram, connect with us on LinkedIn and subscribe to our YouTube channel.
###