Athlete Leadership University (ALU): Empowering Athlete Leaders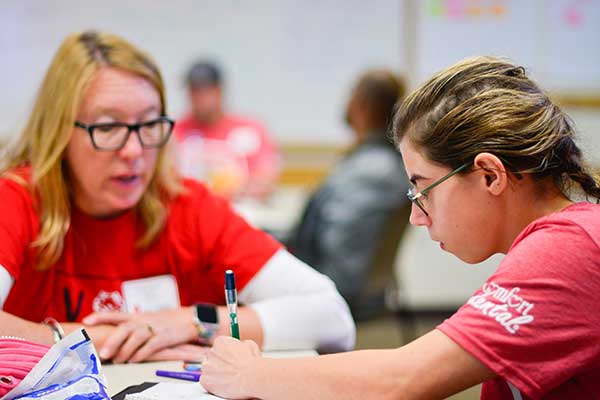 April, 2021
We just wrapped up another exciting semester of Athlete Leadership University (ALU)! We had 48 athletes, 39 mentors and 18 instructors all come together for a day of leadership and learning.
Athlete Leadership University is a series of college-style courses for Special Olympics Colorado (SOCO) athletes that are designed to improve their leadership skills on and off the field, as well as help them become better leaders in their communities. It empowers athletes to make important decisions for themselves and increase their confidence during upcoming leadership opportunities at SOCO.
"The beauty of our ALU program is that it's designed to be accessible for anyone's leadership style and ability level," said Stephanie Levine, Special Olympics Colorado's Athlete Leadership and Family Services Manager. "It's a commitment to yourself to be a leader within Special Olympics, your community, and in your day to day life."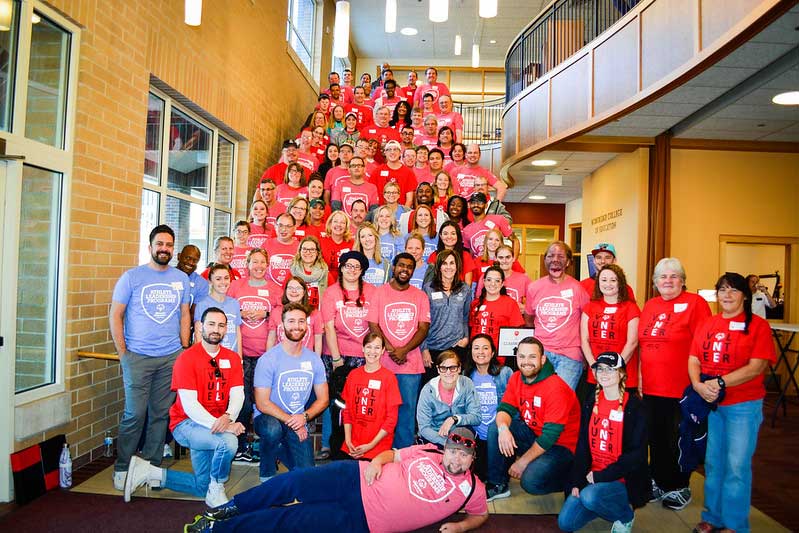 Each year, Special Olympics Colorado holds two semesters of ALU—one in the spring and one in the fall. To complete ALU and graduate, athletes must complete six semesters. Every athlete begins with Introduction to Leadership where they learn about the history of Special Olympics Colorado, how to become an athlete leader and what the ALU program is. This allows each athlete to determine whether or not they want to continue with the program.
During Introduction to Leadership, athletes are paired with a volunteer mentor, unless they already came into the program with a mentor. Mentors have the incredible job of learning alongside our athletes throughout their leadership journey. They support the athletes throughout their courses, as well as with their practicum and follow-up work.
Once athletes complete Introduction to Leadership, they will choose their major: Communication, Health and Fitness, or Governance. Through the Communication major, athletes learn how to become a Global Messenger and speak publicly on behalf of Special Olympics Colorado. Health and Fitness majors become Health Messengers for SOCO and will serve as a health and wellness leaders, educators, advocates and role models. Upon graduation, Governance majors will be prepared to serve on community boards, councils or sit in on more professional meetings.
Once they have completed the required courses for their majors, athletes will then take three elective courses: Financial Independence, Advanced Leadership and Healthy Cooking and Kitchen Safety. Elective classes are taken in one day.
The final course athletes are required to take is a leadership capstone. The capstone is divided into two parts and is a project that culminates everything the athletes have learned. It combines the leadership skills they've learned with their overall goals and what kind of positive change they're passionate about making. "We want athletes to think about how they can give back to SOCO and make a positive impact as a leader, such as create a new program or improve an existing program," Stephanie explained.
Each athlete has their own journey through ALU. Special Olympics Colorado athlete leaders Michael Vanhorn, Gabriella Martin and Travis Bruley are all at different stages of the Athlete Leadership University. Michael is just beginning, Gabriella has a few more courses left, and Travis will be graduating next year.
MICHAEL VANHORN
Michael Vanhorn just completed his second semester of ALU. He took Introduction to Leadership last fall and choose to major in Communications. This spring, he took his first Communication course, Communications 201, where he learned how to be an ambassador in training.
Through the Communications courses, athletes learn how to write speeches about themselves so that once they graduate, they can share their stories at different Special Olympics Colorado events and fundraisers. Each course also has practicums, which are a real life application of the skills they just learn in the form of a homework assignment. In the Communications 201 class that Michael just completed, he is going to start his speech and put his story on paper. Next semester in Communications 202, he'll finalize his speech.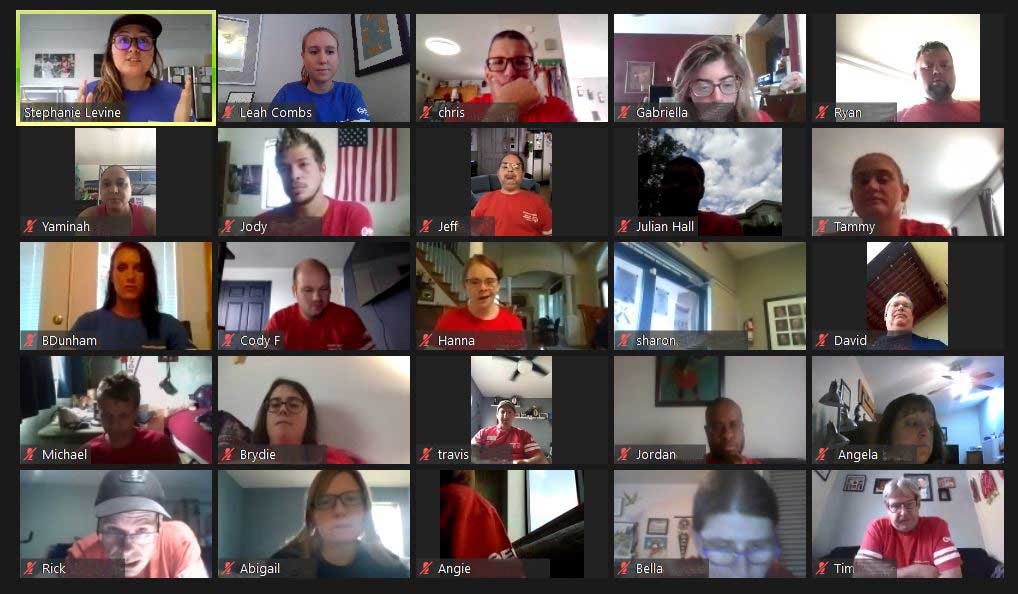 Through ALU, Michael said has learned a lot about being a good leader and how to stay active. Although he has yet to attend an ALU in person, Michael enjoys seeing everyone on Zoom but can't wait to take ALU classes in person.
Michael explained that he has liked meeting new people through Athlete Leadership and is looking forward to becoming a good role model for other athletes.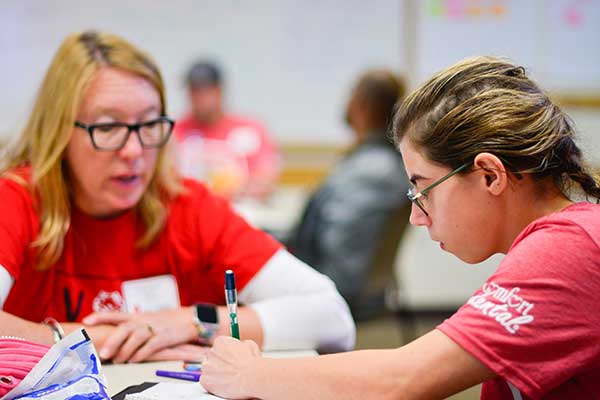 GABRIELLA MARTIN
Gabriella Martin has been attending ALU for about four years now and is majoring in Communications. She's finished all of her main courses and just has a few elective courses to complete before graduating.
Gabriella said she wanted to be part of ALU because it seemed fun and a great way to meet new people. She became a Communications major because she wanted to be a Global Messenger for Special Olympics Colorado. She was inspired by fellow athlete and Sargent Shriver International Global Messenger Hanna Atkinson to pursue this path. "I watched a video of Hanna Atkinson and I really want to do this because I really want to spread the word about Special Olympics," she explained.
Gabriella stated that ALU has helped her gain more confidence. She is currently in school studying to be an Early Childhood Education teacher and said ALU has taught her stills that she can use in the classroom. "ALU has helped me be more confident in myself and be more confident in teaching kids and speaking to my classmates," stated Gabriella.
TRAVIS BRULEY
Travis is completing his final year of ALU and is currently taking the leadership capstone. Travis decided to major in Governance because he said he wanted to help his fellow athletes and learn how to talk to the media.
Through his courses, Travis has learned how to present to a class, how to talk to the media and how to become a better athlete leader.
Travis currently works at Chipotle and explained that he uses a lot of his skills that he's learned at work. His courses have not only taught him how to be a better athlete leader, but a better employee. He said he's become a better communicator and has grown his problem solving skills significantly.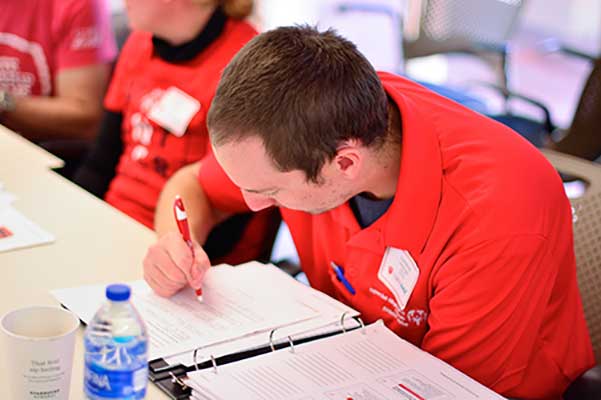 Once he graduates from ALU, Travis hopes to become a mentor for other athletes. His current capstone project is to create a peer-to-peer program where athletes mentor other athletes. "I want to help athletes that are going through the ALU program," said Travis. "I want to be a good role model for my teammates and coaches."
Travis' advice for other athlete leaders? "For anyone that wants to do ALU, just be yourself and try your best," he said. "Never give up."