October 2023 Change Makers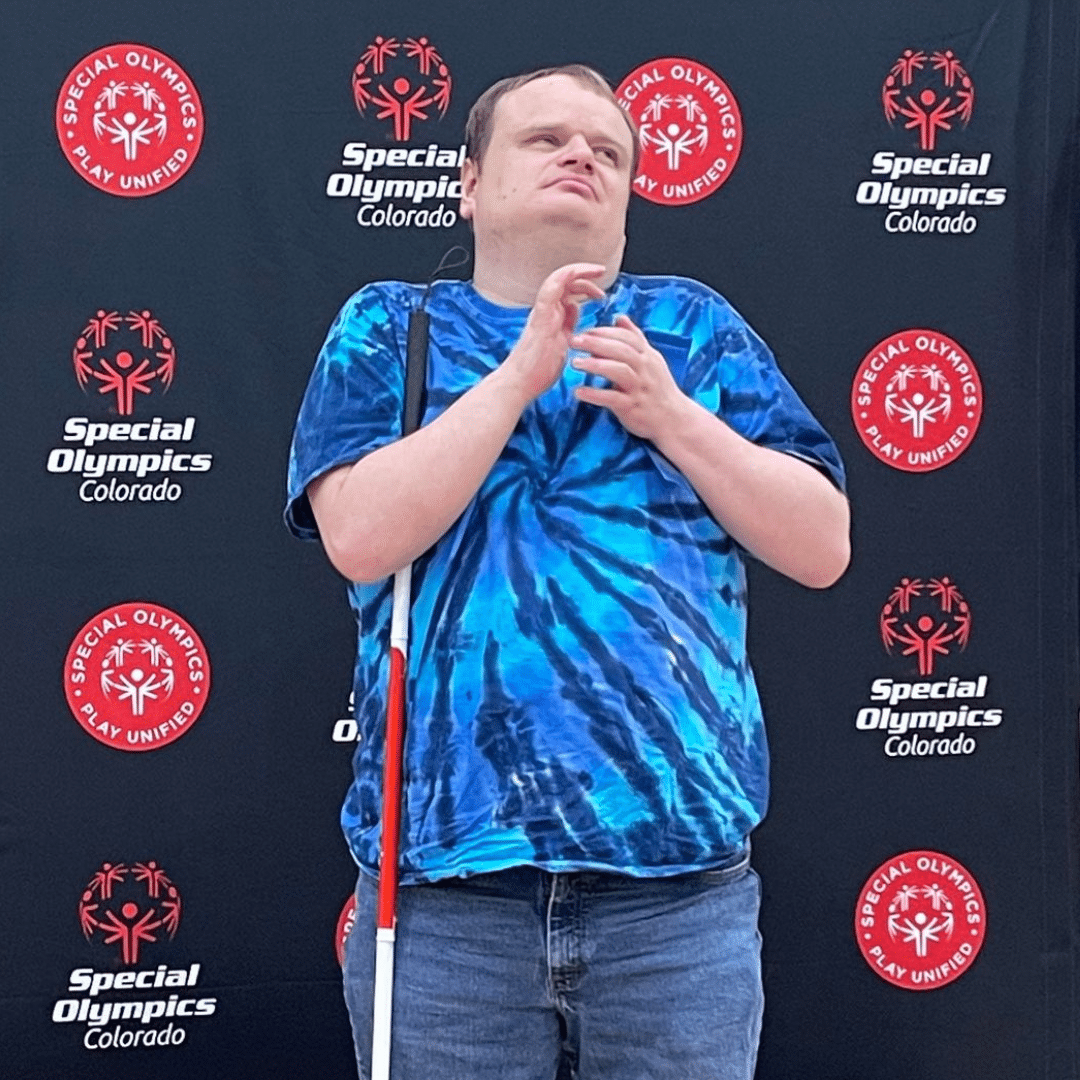 Jeff Clark
Athlete of the Month
Jeff Clark has been a Special Olympics Colorado athlete for more than 3 decades. He had competed in many sports throughout the years, including flag football, swimming, tennis and basketball.
Jeff recently graduated from Athlete Leadership University and for his capstone, he wanted to create more opportunities for aging athletes. "As you age, we don't have as much flexibility anymore, or we're not as fast or that kind of thing, and it's really hard for us to compete against somebody in their 20s," he said. "50- and 60-year-olds can't keep up with the equal playing field."
Jeff knew that Special Olympics Colorado had been considering adding pickleball as a sport, so he wanted to see if he could bring the sport to Colorado. While pickleball is not an official SOCO sport, it is being explored through different regional "Learn to play" opportunities. "This is just the very beginning and then we'll continue from there and incorporate whatever we need to," Jeff explained.
In addition to giving Jeff a passion for leadership, Special Olympics Colorado has impacted Jeff's life in many ways. Before Special Olympics Colorado, Jeff was using his phone to zoom in on books and menus so that he could read the words because he couldn't afford prescription glasses. Jeff received a free pair of prescription glasses thanks to an Opening Eyes Screening at a competition. Now, you can see him rocking some colorful glasses.
"I don't think I'd be where I am today without Special Olympics," said Jeff
Congratulations, Jeff, on being recognized as the October Athlete of the Month!
Jeremy Dorr
Volunteer of the Month
Jeremy Dorr has been coaching for Special Olympics Colorado since 2012 while he was working at Grandview High School. He was hooked when he went to Grandview's first-ever Unified basketball game and was smiling the entire time. The following year, he asked if he could help out and has been a coach ever since. "Big thanks to Cory Chandler for introducing me to Unified and Special Olympics," said Jeremy.
Jeremy coaches bowling, flag football, baseball, powerlifting and softball. He also coaches kickball, soccer and track and field at Legend High School, but they do not compete in Special Olympics events for those sports.
Throughout the years, Jeremy said he has many memories, including coaching Team Colorado bowling at the 2018 USA Games in Seattle, the countless walk-off hits to win softball games, and buzzer-beating shots to win a basketball game. "There are so many incredible memories," he said.
Jeremy said the athletes are what makes coaching so incredible. "They are the number one reason I coach," he explained. "Seeing them give their all on and off the field or courts doing it all with a smile. These athletes are capable of so much and giving them the opportunity to shine and showcase their skills is the best part of it. The relationships I have built with athletes and families is unmatched."
Jeremy's passion for Special Olympics Colorado is unmatched. "I just love coaching and providing opportunities for my athletes to experience many different sports and for them to have the chance to showcase their skills," said Jeremy.
We are proud to recognize Jeremy as our October Coach of the Month. Thank you for all you do for Special Olympics Colorado!